[ad_1]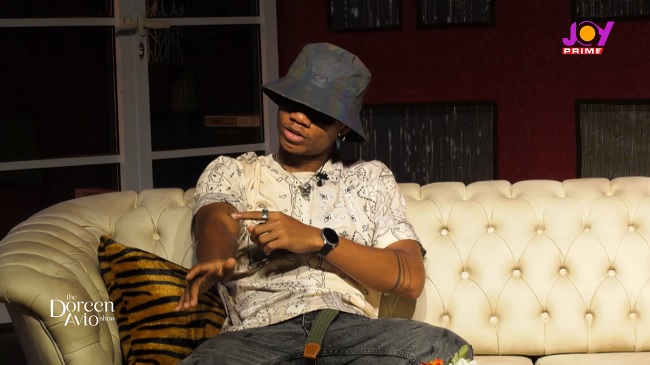 The reigning Vodafone Ghana Music Awards (VGMA) Artiste of the Year, KiDi says he's less bothered by the criticism he's suffered for the tattoos on his body.
According to him, each and every drawing on his skin has a meaning that is dear to his heart.
Speaking on The Doreen Avio Show, which airs on Joy Prime, the multiple award-winning musician said that he has finally decided to listen to individuals who believe the tattoos are sexy.
"I only decided to focus on the people who say it's sexy for my own peace of mind. Every single one of them on my skin has a special meaning, so it's not something I'll regret in 50 years. I love them. I might think of getting more. The only reason I'm not getting more is because my mother said enough is enough," he said.
KiDi's tattoos are mostly found on his arms and chest.
The crucifix
The crucifix represents his Christian faith. According to KiDi, the tattoo is a message about how Jesus was crucified on the cross, but it is depicted with three nails – the left, right, and then the feet.
The Son's birthday
Zane Dwamena, KiDi's son, also has his birthday tattooed on his father's body to show how special he is to the musician.
The 'Champagne' hitmaker said that, "At a point, I just wanted to get numbers on my skin, but I was like, what numbers do I get that actually have meaning; that I'm going to wake up every day and still be proud of? As a result, I decided to tattoo his birthday on my skin."
The Mother's name
Although KiDi's mum, Beatrice Thompson, is not so enthused about the many tattoos on his body, she has one dedicated to her. Her name has been written on the boy's right arm. The musician said his mother is the reason he has not had more tattoos. According to him, the mother told him, "Enough is enough."
Breathe, it is well
"I deal with anxiety a lot," the Afrobeat and hip-life songwriter-singer explained, "so I constantly have to remind myself to breathe because it is well."
5 emojis
"These emojis are not just WhatsApp emojis like people say. I met someone, and he was like, why have you gone to draw WhatsApp on your skin. These emojis depict my 5 concert moods. I just didn't want to write them, happy, sad…I wanted to depict them with emojis because the world speaks in emojis," he said about the tattoos on his chest.
Meanwhile, the artiste said he had a troubled childhood.
His defiant behaviour led him into many troubles at school and at home.
According to KiDi, he was once reported to his father for eating his teacher's food without permission.
The Lynx Entertainment musician said his father, who had had enough of his troubles, ordered for him to be stripped and sent out of the house.
KiDi was forced to change his ways in order to avoid his father's wrath.
"My dad called my big sister. He was like, 'strip him naked; everything. No supporter, nothing, and then, when you're done, put on his church shoes. So picture this: a young kid, naked, wearing only church shoes."
"My dad said, 'since you want to act all grown up, leave my house and go and live in your own house.' I'm still naked and wearing my church shoes. I started crying and walking out, and he called me back, and things have never been the same, so I feel like that punishment stuck with me more than any beating I have ever received," he said.
Despite his recalcitrant behaviour, the "Gyal Dem Sugar" hitmaker added that he was a highly driven individual who participated in quite a number of extracurricular activities such as sports, entertainment, and art while in school.
These engagements have shaped him into the music star he is today.
DISCLAIMER: The Views, Comments, Opinions, Contributions and Statements made by Readers and Contributors on this platform do not necessarily represent the views or policy of Multimedia Group Limited.
[ad_2]

Source link