[ad_1]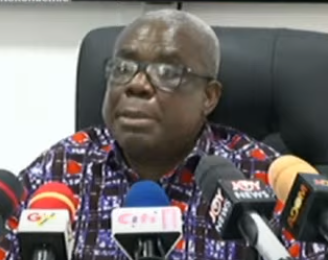 An Election observer of the Democratic Union of Africa, Peter Mac Manu says the Independent National Electoral Commission (INEC) of Nigeria has done what it could to ensure a successful election.
According to him, elections entail a lot of processes that require everyone, from the electoral commission to the electorate to play their roles well in order to make the exercise successful.
The former Chairman of the New Patriotic Party (NPP) stated that, while Nigeria's election had some challenges, such as delay in the provision of election logistics and pockets of violence, the INEC has fulfilled its mandate. 
Speaking on JoyNews' The Probe/Nigeria Decides on Sunday, Mr. Mac Manu said, "on the eve of the election, we expected a peaceful orderly election, and as a matter of fact, I would say INEC has done its bit, because there are other major stakeholders, who are to contribute their bit."
According to him, from his observations on the day of the elections, there was order at the various polling units, and that election materials had been distributed to these polling units in preparation for the election.
He said, "Yesterday, on my rounds, to the polling units, it was orderly. The day before, at dawn, at the registration centres, where in the morning, election materials were distributed to the poll units, the vehicles were there, the drivers were there."
However, he noted that some factors, such as the financial crisis and fuel shortages, may have had an impact on the INEC and may have contributed to the delay in the deployment of logistics to some polling stations. 
"You have to take all these into a holistic consideration to be able to know whether some polling stations were late in opening, but these are some of the reasons."
Mr Mac Manu, however, disclosed that INEC promised to extend the time for the closing of voting beyond 2:30pm should there be a delay, and this promise was fulfilled.
He reckoned that, "Nigeria has a huge voter population, 93 million. And about 93% collected their PVCs (Permanent Voters Card), so it's a huge task. Nevertheless, when you break it into the 37 states, the 774 local government areas … and you come to the 176 thousand plus polling stations, then it becomes manageable."
With that, he stressed that election is a total cooperation from all stakeholders such as media, security, political parties and civil society groups and reiterated that the INEC did its best.
Nigeria went to the polls on Saturday, February 25, 2023 to elect a new president after almost eight years of Muhammadu Buhari being in power.
A total of 18 candidates were campaigning for the top job, but according to opinion polls only three have a realistic chance of winning.
DISCLAIMER: The Views, Comments, Opinions, Contributions and Statements made by Readers and Contributors on this platform do not necessarily represent the views or policy of Multimedia Group Limited.
[ad_2]

Source link